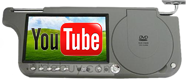 Restored Vehicle Sales Gallery
LAST CHANCE AUTO RESTORE RETAIL VEHICLE SALES
Welcome to the Last Chance Auto Restore Restored Vehicle Sales.

This area lists vehicles currently available for sale that have been repaired or completely restored.

These vehicles are offered for sale with valid safety certificates and valid e-tests. An e-test is a motor vehicle requirement for all vehicles newer than 1989.

Last Chance Auto Restore is licensed and registered with the Ontario Motor Vehicle Industry Council (O.M.V.I.C) and is also a member of the Used Car Dealers Association of Ontario (U.C.D.A).

Last Chance Auto Restore can also assist you in finding a specific vehicle you may otherwise have difficulty locating.

Browse this gallery often as our inventory is constantly changing.

John Nizman
Last Chance Auto Restore

- - - - - - - - - - - - - - - - -

Click an image to open the viewing gallery for that vehicle.